If you need to illustrate file formats on your website or embed these icons in your application (web, mobile, etc.), this icons pack was designed right for that.
You can place images as download icons, as descriptions to articles or as buttons in your applications. The file format icons pack goes in different colors (and you can create your own one) and in two sizes: big (90x65px) and small (24x17px).
90px icons
90x65px icons:
3ds/max file

Pdf file

ASP.NET file

Sh/bash konsole

Power Point file

XML file

Configurations file

CPP file

CSS file

SQL/DB file

EXE/COM file

FB2, DJVU file

Flac/ape file

Flash file

HTACCESS file

HTMl file

PNG file

JAR/WAR file

JAVA file

JS file

Key/crt/pgp file

Link file

Log file

MIDI file

Mp3 file

PHP file

Graphics

Python file

Ruby file

Script file

Subtitle file

Svg file

Table

Torrent file

Text file

Unknown file

Url file

Video file

Word file

Zip file archive
Palette
Here is a list of colors included to distribution. Of course you can change color to any you want manually, but these 18 variants are already saved for you.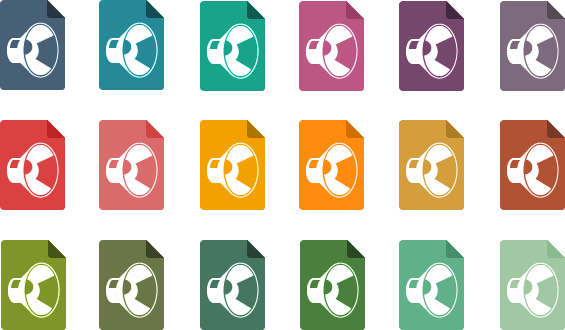 24px icons
All these icons are 24x17px: